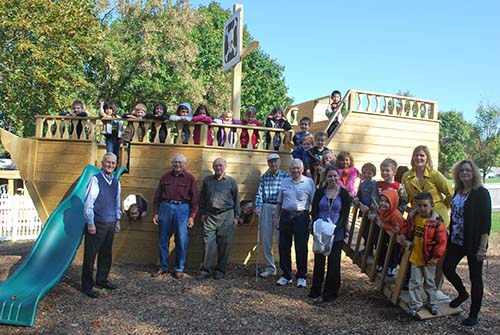 The Friendship Center at Schooley's Mountain is the very first Intergenerational Child Care Center in Northwest New Jersey. The center is a model for other child care groups pursuing the intergenerational child care concept. The Friendship Center was conceived in 1991 when members of the Heath Village Board of Trustees saw a promising opportunity – a chance to provide a unique learning and development experience for the children while enriching the lives of Heath Village residents at the same time.
With so many working parents and families so dispersed, the kind of individual attention that children need could often not be adequately provided in a traditional day care facility. Why not draw on the rich pool of caring adults at Heath Village who would be eager to volunteer their time to making each child seem special? With the help of a grant from the Lorna W. Reynolds Children's Development Fund, The Friendship Center was an immediate success.
Celebrating its 25th Anniversary in 2016, the Friendship Center continues to receive top ratings for the quality of its childcare. Throughout its history, over a 100 Heath Village residents have volunteered their time to the Center. The Friendship Center has been the subject of an award winning video (The Friendship Center Experience) and numerous magazine and newspaper articles, and has continued to attract interested visitors looking to us as a model they can emulate in their own communities.