Welcome to Heath Village
Located in scenic western, Morris County on a beautiful 100+ acre campus, Heath Village represents an affordable choice for today's retiree who wants to remain active, involved and independent. A non-profit, full service retirement community, Heath Village offers a choice of lifestyle options, first-rate amenities, numerous social opportunities and the security of comprehensive health care services on-site. We invite you to visit us today and learn more about life at Heath Village, Retirement. As It Should Be.
Special Event

10/20/2017
Silent Auction & 4 S Home Cookin' Sale (Soups, Sweets, Suppers & Savories) Heath ...
VIEW ALL EVENTS →
Spotlight
Friendship Center Celebrates 25 Years!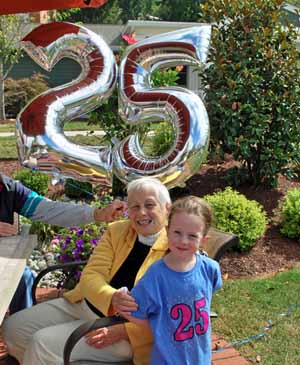 The Friendship Center at Schooley's Mountain celebrated its 25th anniversary on September 30, 2017. To celebrate this milestone anniversary, the intergenerational child care center located on property adjacent to Heath Village Retirement Community held a good old-fashioned birthday party for its current students and their families and Friendship Center alumni. Joining in on the fun were also many Heath Village residents who volunteer at the Center.
To read more about this unique intergenerational program, please click here.
Testimonials
Therapy program
"...The Therapy program at Heath Village did such a wonderful job on me. I have had no problem fitting into the new life at Colonial Manor...Thank you for getting me there and back."
~Tomio, Rehabilitation patient
VIEW ALL TESTIMONIALS →